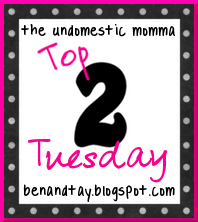 Click over to
Taylor's
to link up!
I think "Top two things you can't live without" is a great topic to jump in to Top 2 Tuesdays with! Now, I am approaching this topic with an obnoxiously first-world perspective. Clearly, I
can
live without these things, but they are fun things that improve my mood, if nothing else!
1. Gold Bond Ulitmate Healing Lotion (travel size)
January
, but I really can't say enough about this stuff! I have it with me in my purse
at.all.times.
I may not use it every day, but it's always there for me when I need it! If you're looking for a travel-sized lotion to keep in your bag, don't let the old lady stigma about Gold Bond keep you from trying this! (I get mine for $1 at Wal-Mart).
2. My MacBook and Adobe CS3.
Some days, being able to go home and play with some design stuff really does save my sanity. I have big dreams of working from home, designing all day long and meeting fun people along the way. I've only dabbled in graphic design thus far--working (for free) for people I know and love. I hope to one day really turn it into a business though. It would be even better if I could design full-time, whether for an existing business or myself. But, for now, I'll continue designing in my spare time, for my friends and myself!
In other news, Julie over at
Brown Eyed Belle
gave me an award! I love this one because we're also BFFs in real life!
I just have to tag
Julie
back! Also, I'd like to pass it along to these favorites:
Hopefully you don't mind to get this again if it's a repeat for you!