I'm a bit - ahem - anal retentive. It's such a pleasant thing to call myself, but it's true. I like things to have order. I like organization. I like themes.
I really like themes.
And I like using themes for Pink & Green Thursdays.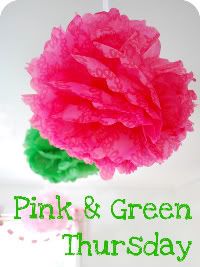 So when as I browsing
Julie's
blog yesterday, and I saw this picture. I knew exactly what I wanted my theme to be this week.
Tablescapes.
Hope you enjoy!
Head on over to
Trishy's
for the prettiest collection of blog posts today!